My taste buds have been arrested by the pictures of these beautiful cupcakes.
Article can be found at Cheeky Kitchen
Mexican Hot Chocolate Cupcakes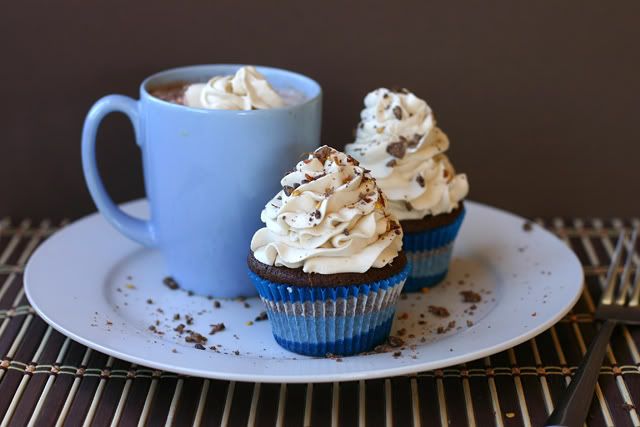 I had a love story all thunk up for this post.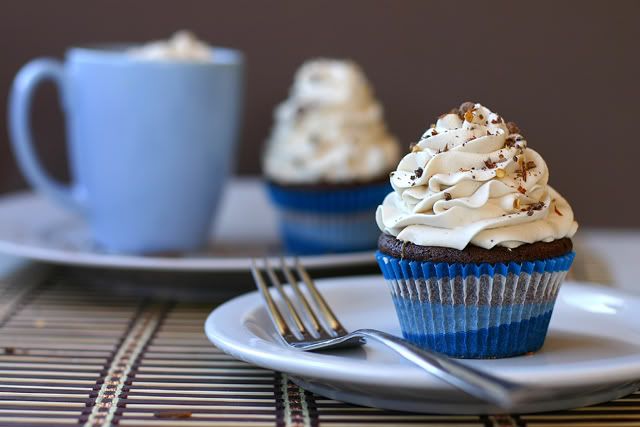 It had something to do with chocolate. And children. And Mexico. And my mother-in-law. And hot chocolate. And dulce de leche. And cream topping with a kick.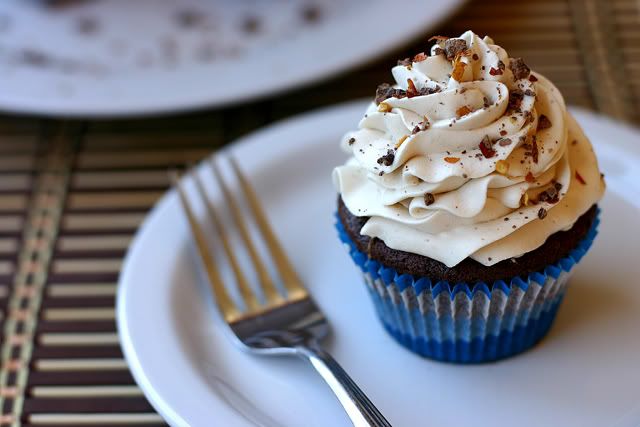 But, somehow, while perusing the pictures, I forgot everything about everything.
*
It was just me. And chocolate. And cupcakes.
*
Which, I suppose is a love story in and of itself. A very, very short love story. Because I plan to eat it entirely in two seconds flat.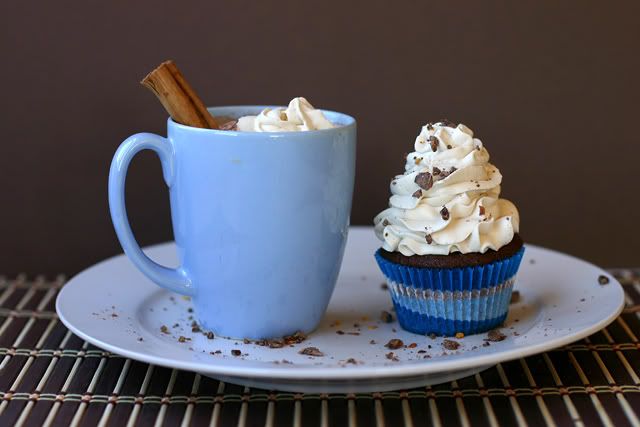 Mexican Hot Cocoa Cupcakes
with Hidden Dulce de Leche & Chile Kissed Cream
There is something warm and Christmassy about a cup of Mexican Hot Chocolate. It's rich, cocoa flavor with vanilla and cinnamon undertones is positively divine. Turn it into a cupcake, sneak a center of gooey caramel inside, then top it all off with a whipped chile-cream frosting, and you've got an absolutely divine holiday indulgence that is muy, muy delicioso.
3/4 cups sugar
3/4 cups brown sugar
2 eggs
1/2 cup canola oil
1/2 cup milk
1/2 teaspoon baking powder
1/8 teaspoon baking soda
1/4 teaspoon salt
1 teaspoons cinnamon
1 teaspoon vanilla (use mexican vanilla, if you have it)
1/2 cup dutch cocoa
1 1/4 cups white flour
*
1 cup high quality caramel ice cream topping
*
1 1/2 cup heavy whipping cream
1/2 cup brown sugar
1/4 teaspoon cayenne pepper
1/4 tablespoon semi-sweet chocolate chips, chopped
1 teaspoon red chili flakes
In a large bowl, combine the sugar, brown sugar, eggs, oil, and milk. Beat together until well combined. Add the baking powder, baking soda, salt, cinnamon and vanilla, stirring well until incorporated into the batter. Slowly beat in the cocoa and flour just until mixed into the batter. Spoon batter into 18 prepared muffin tins prepared with cupcake wrappers, filling each cup to approximately 3/4 full. Bake in an oven preheated to 350 degrees for 17-19 minutes, or just until the tops of the cupcakes spring back to the touch. Remove from oven and cool completely.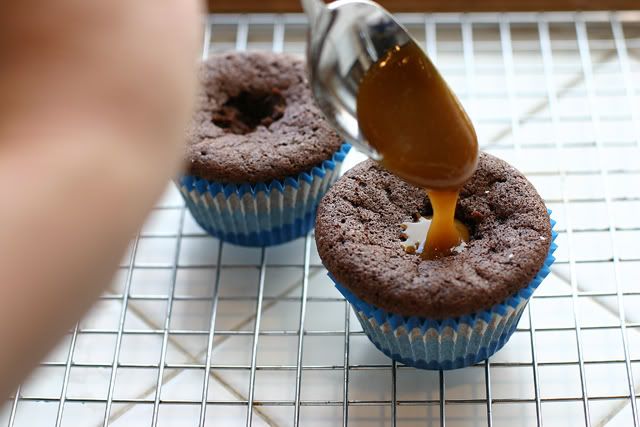 Using a spoon or small scoop, remove a small portion of the top center of each cupcake. Spoon caramel sauce (the thicker, more expensive kinds of caramel sauce work best, so feel free to splurge on the good stuff) into this center part of the cupcake.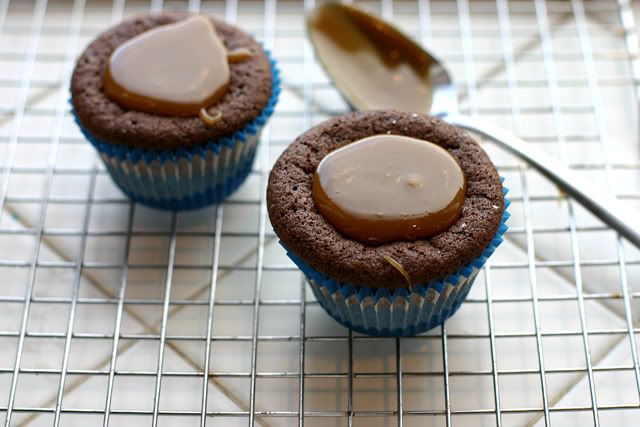 In a large bowl, beat the whipping cream until soft peaks form. Slowly add the brown sugar (make sure you use fresh, soft brown sugar or else the cream will come out grainy), mixing until the cream is thick enough to pipe on top of cupcakes. Stir in the cayenne. Spoon cream into a large pastry bag (or ziploc bag), then pipe it on top of cupcakes, over the caramel filling. Sprinkle with chopped chocolate and red chili peppers for garnish.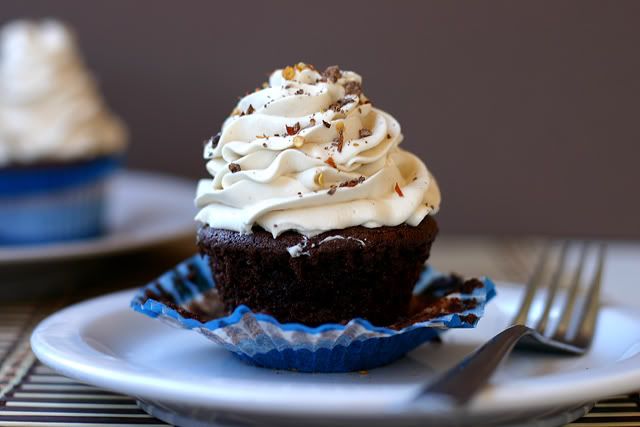 The. End.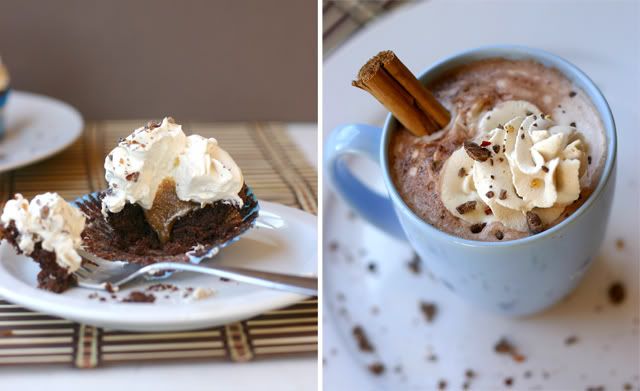 Love Mexican Hot Chocolate, but can't stand waiting for 17-19 minutes while these cupcakes cook? Check out my to-die-for recipe for a mug full of Easy Mexican Hot Chocolate which (hold onto your sombreros) includes melted vanilla ice cream and the same chile-kissed cream you'll find on these gorgeous little cuppies. Can I get an aye, aye, aye carumba?!